Here's where we're heading at: updates of ongoing projects, our team's personal selection and what is recently on our design board – and from M.Bassy, our supported and cherished social-cultural project.
---
News: First insight, Palladium Prague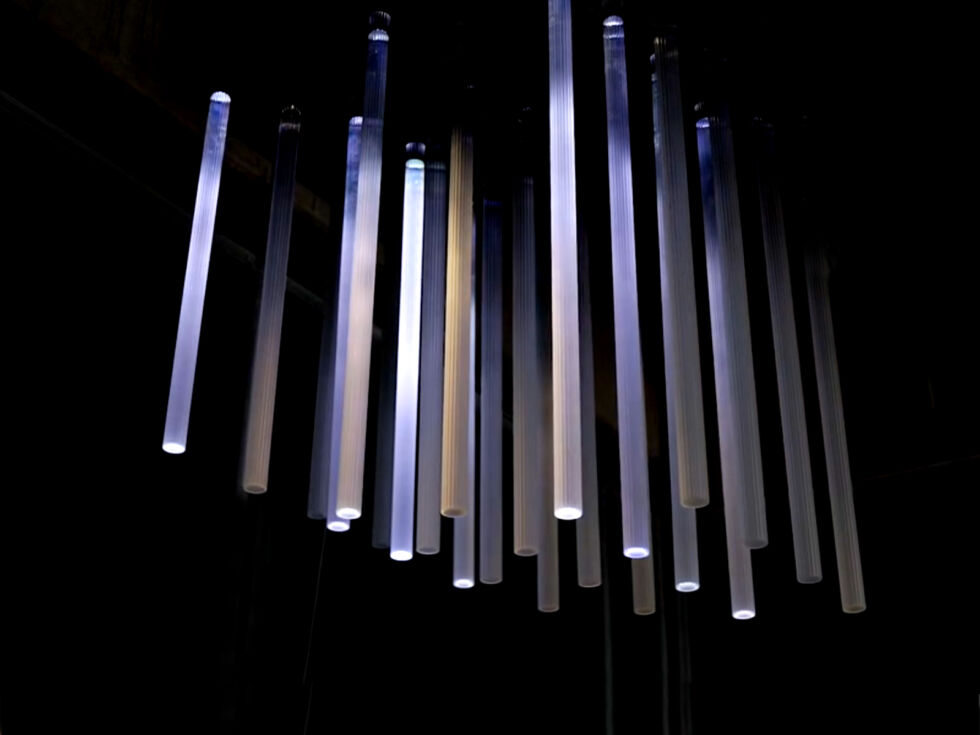 Palladium Shopping Centre, Prague
More than 1,200 glass tubes, which hang down from the ceiling up to a length of 1.40 m, are part of the light sculpture we developed for the main entrance of the shopping centre.
Each of the glass elements is equipped with an RGBW LED module and a 20 degree lens, which is responsible for directing the light along the semi-matt tube. We are so excited about the development of this luminaire that we decided to give you a little insight into the final mock-up, just watch the video.
In January 2020, renovation and modernization works initiated and Licht 01 has been in charge of the lighting design. The complete lighting of the mall areas will be refurbished with LED luminaires improving the light quality and the sustainability of the building. Other areas like the riding hall, food court and the atrium are also included in the renovation of the shopping center.
The shopping centre located right on the Republic Square "Náměstí Republiky", contains more than 200 tenants, including 170 shops, 30 restaurants and a designated office space. Totalling almost 20.000 square meters, Palladium is positioned as one of the biggest shopping centres in the Czech Republic.
Since its opening in 2007, Palladium has been one of the most visited and renowned shopping facilities in Prague.
Client: Union Investment Real Estate GmbH, Hamburg
Architects: In.Point Architekti, Prag, Tschechien; Riethmüller, Architecture, Design, Consulting, Hamburg
Manufacturer: Preciosa Lighting, Kamenický Šenov, Tschechien
Video: Preciosa Lighting
---