Here's where we're heading at: updates of ongoing projects, our team's personal selection and what is recently on our design board – and from M.Bassy, our supported and cherished social-cultural project.
---
Press: Interview Museumswelt Hamburg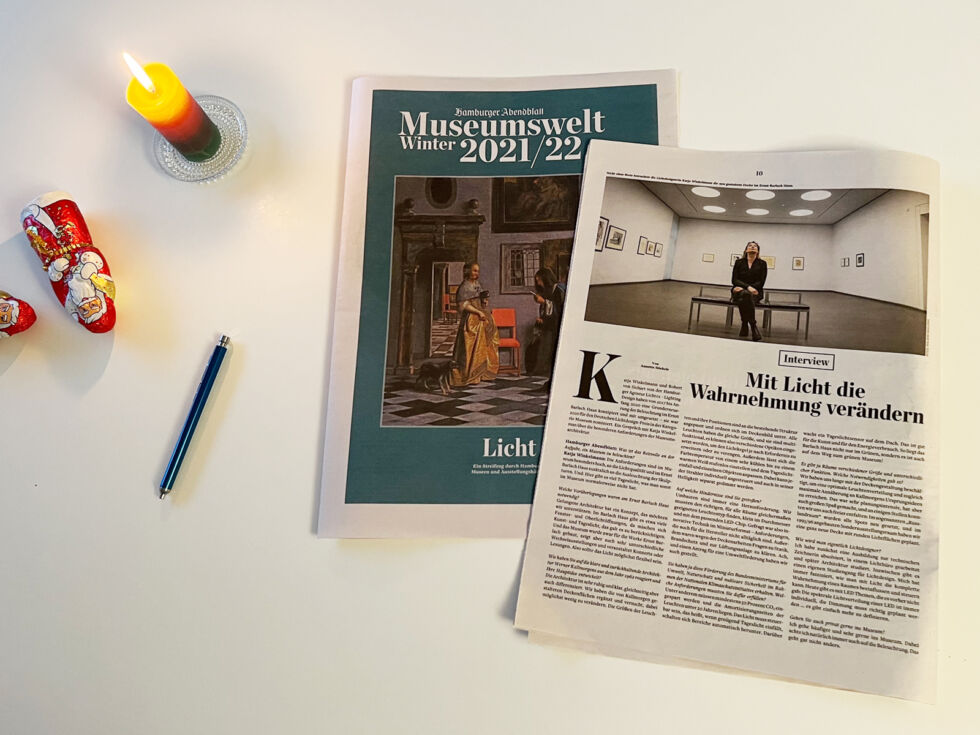 Light in the Barlach House
Appropriate to the dark season the Museumswelt Hamburg appears with the topic light. Katja is interviewed in the winter supplement of the Hamburger Abendblatt about the lighting design in the Ernst Barlach Haus.
Planning, concept, challenges - solutions. Here is a short excerpt of the interview by Annette Stiekele.
What obstacles did you encounter?
Conversions are always a challenge. We had to find the right type of luminaire, equally suitable for all rooms, small in diameter and with the right LED chip. So innovative technology in miniature format was required - requirements that are not commonplace even for manufacturers. In addition, because of the ceiling work, questions about statics, fire protection and the ventilation system had to be clarified. Oh, and we also applied for an environmental grant.
You received this grant from the German Federal Ministry for the Environment, Nature Conservation and Nuclear Safety as part of the National Climate Protection Initiative. What requirements did you have to meet?
Among other things, at least 50 percent of CO2 must be saved and the payback period for the lights must be less than 20 years. The light must be controllable, which means that when there is sufficient daylight, areas switch down automatically. A daylight sensor on the roof watches over this. This is good for the art and for energy consumption. So the Barlach House is not only in the green, but it is also on its way to becoming a green museum!
Read more on page 10 (german)PDF download
---